Insurance Coverage in Maple Grove

Regarding Health Insurance…There is a misnomer I would like to clear up regarding your health insurance. Most people think it is cheaper to use their health insurance. With the rise in deductibles and co-pays, major medical health insurance is getting more expensive to use. You should check with us regarding our cash plans. This may be a more affordable way for you to afford the chiropractic care in Maple Grove you need.
---
What types of insurance do not require a co-pay or deductible in Maple Grove?
Regarding Workman's Compensation Coverage…
If you have been injured at work then you may have a case for coverage under your employer's worker's compensation insurance carrier. All employers in the state of Minnesota must carry this insurance for their employees. The coverage is for chiropractic and medical treatment. In most cases, coverage for chiropractic will be for a period of 12 weeks. Specific criteria must be available for extended coverage beyond 12 weeks.
Regarding Personal Injury Insurance/Liability Insurance…
This is the insurance you use when you get hurt on private/public property (slip and fall injury). Most all businesses carry this type of insurance. There are usually caps on the number of insurance dollars available
Regarding Home Owner's Insurance…
This one is simple. You get hurt on someone else's residential property then use this insurance.
We are In-Network With:
BlueCross
BlueShield
Cigna
Health Partners
Medica
Medicare
PreferredOne
UCare
United Healthcare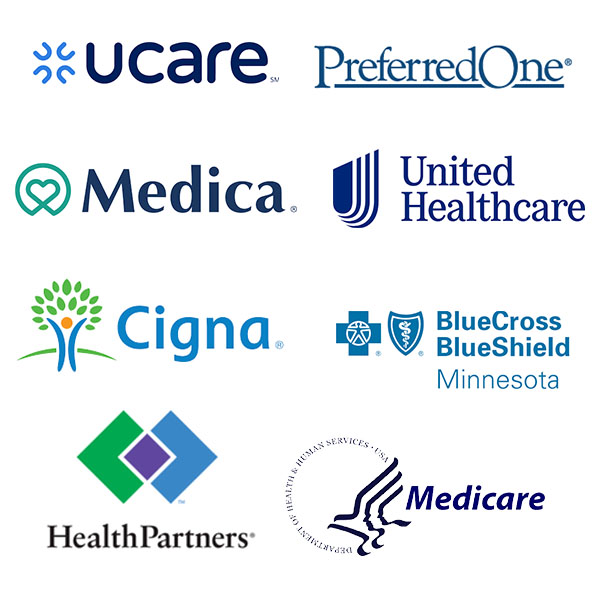 Under the law, health care providers need to give patients who don't have insurance or who are not using insurance an estimate of the bill for medical items and services.
Monday
9:00am - 12:30pm
3:00pm - 5:30pm
---
Tuesday
3:00pm - 5:30pm
---
Wednesday
9:00am - 12:30pm
3:00pm - 5:30pm
---
Thursday
1:00pm - 5:30pm
---
Friday
Closed
---
Saturday
Closed
---
Sunday
9:00am - 11:30am
* Massage Hours May Differ